Hey everyone! I finally found the time and mood to blog a bit again. I mentioned in my previous blog post that I'll be sharing a bit on what has transpired in the past few weeks during this Chinese New Year peak period.
I have never had so much BaZi consultation requests in a single month. I used to reach out to people individually whenever they fill up my BaZi request form, and it has come to a stage where I decided I need to automate the process rather than do things manually so I can save up whatever time and mental bandwidth I have to focus on analyzing charts, writing reports and conducting the Q&A. What happens now is that whenever someone fills up the form, an automated email will be sent out with whatever the client needs to know before receiving the report, including the waiting time, what are the important blog posts to read. There is also now an auto-updating graph to show the status of the queue.
 For those who are skeptical and are thinking that I drew up a random graph, if you've not seen my previous post yet, here's the screenshot of the traffic I get on my website for you to do your own rough estimates. The traffic I receive is only going to get higher with each passing month.


Anyway, back to the main topic of this post.
Some of you may have stumbled upon a really old blog post from February 2017 last year on my first corporate feng shui audit of the year. It's one of those really memorable cases because it's definitely a milestone for me to have such a high profile client. My client is a listed company on the New York Stock Exchange. They manage one of the worlds largest tanker fleets. To get the opportunity to perform a feng shui audit on their office was rather unnerving at first but also very humbling. What's even more humbling is that I got invited back this year to do a review for them and give insights on how 2018 will look like.
I can't go into detail due to confidentiality reasons of course, so this entry will be more of a personal sharing than anything else. I really hope you guys enjoy this post and get a sense of how office feng shui is just as important as your home's feng shui.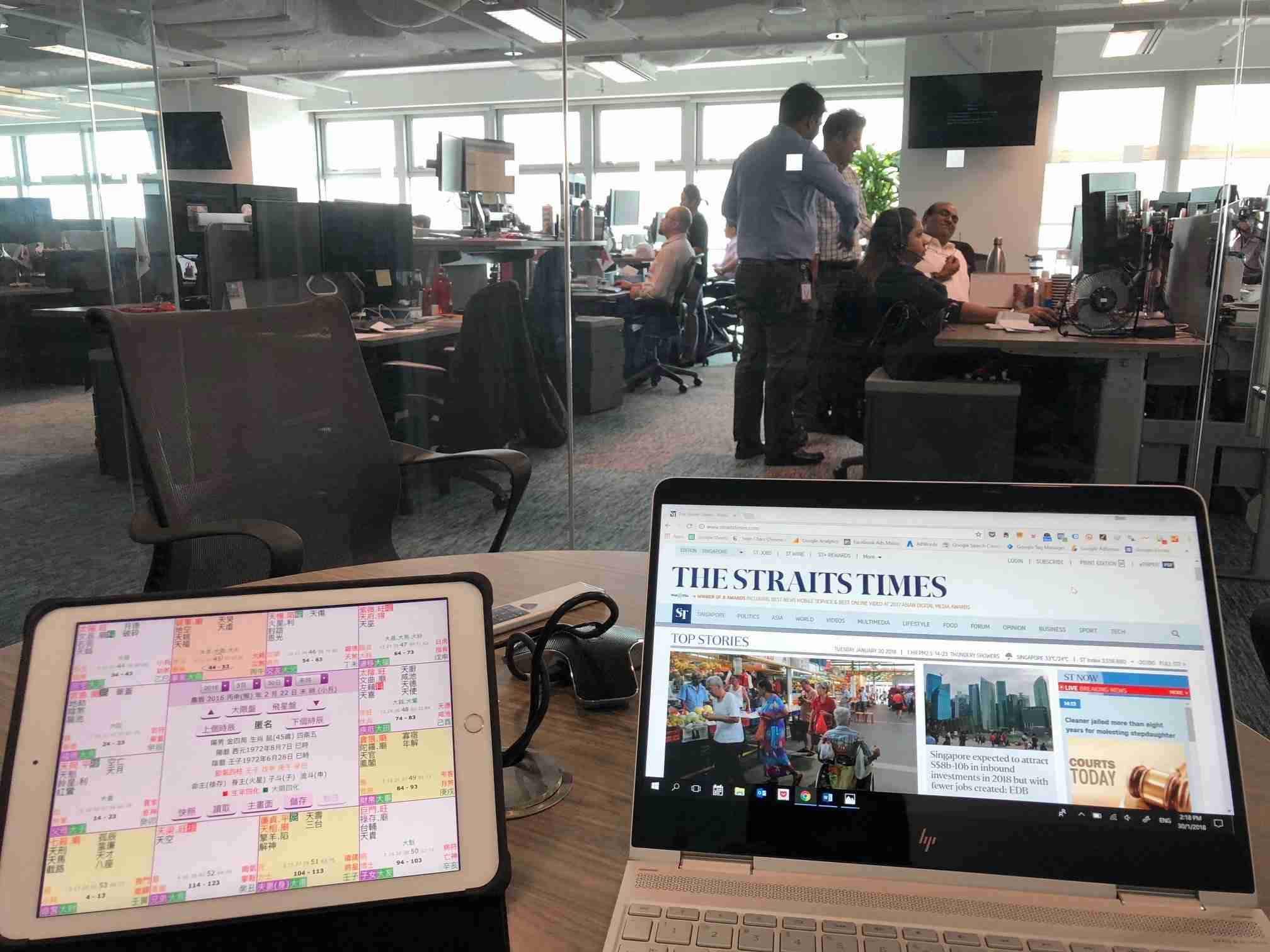 I know the skeptics are probably thinking "I bet you took this last year while you were there", but take a close look at my laptop screen and the date stated on the Straits Times website and I think everyone can be convinced I was there. I have my own ways of showing I was somewhere doing whatever it is that I'm supposed to be doing, and it's usually by making sure my brown coloured messenger bag is in the picture. I got a little more innotivate this time. And no, this is not the office of my own employer – a simple search on LinkedIn and you'll know where I work. I even included the link on the landing page of my blog. For the new comers to my blog, if you're wondering why I don't show up in my pictures holding a compass, that's because it's a pet peeve I have and I find it really, really awkward and disrespectful to be doing that when someone pays you to do a job and your mind is on what would make good marketing material. So, do pardon the really unappealing photos.
I finally got the meet the CEO this time on top of the COO whom I've had the pleasure of meeting last year. It's a very surreal experience because both of them are immensely successful to make it to where they are today and they are almost 30 years older than me. To have them take the words of someone nearly half their age so seriously and having full faith in my expertise is extremely humbling. The COO did spend a lot of time reading my blog last year, which is why he had a new perspective of feng shui and decided to engage me and do away with all the items placements. A residential feng shui case that had the same impact on me was an upscale condominium at Orchard Road I did last year at Four Seasons Park who belonged to a successful Indian businessman.
This corporate audit was invaluable to me as a practitioner, because there is now a close follow-up with the top management who was able to share what has transpired over the course of one year since my last visit in 2017. The insights and seeing the real life manifestations basically reaffirmed whatever I've learned in metaphysics and feng shui. Turns out a lot of the deductions I made in 2017 based on the office floor-plan were true. I remember pointing out that "someone sitting in this part of the office is going through a hard time and it's most likely the head of the department" – I eventually met this particular head of department and he shared with me that his wife is undergoing treatment for terminal cancer.
Turns out the CEO and COO did follow through with some of the recommendations I gave them last year (not all were executable), shifting an entire department department to a better sector of the office and using the negative sector as a hot desk for staff from overseas offices. To be honest, and this is the same issue I have with residential audits, what I can do for them was rather limited because the layout of the office is very hard to change. The story goes that they had another practitioner whom they engaged for the design of the office, and not a lot of thought was put into the process to be honest. The previous practitioner also ended up proposing the placement of items which everyone should know I am extremely against by now.
The thing about feng shui and the whole field about metaphysics is that, sometimes, by the time you find a practitioners, it's either already too late or things are already set in stone. The house was bought or renovated; the design of the office has already been completed or that negative even in your BaZi has already triggered. Feng shui itself is no short-cut, and to stop this chain of cause-and-effect is not so simple because there are too many factors that you need to control and you'll need to exercise this control really early. Let me try to give some layman examples and how all these events chain up assuming someone wants to really tap on feng shui and alter the course of how things unfold:
This person needs to first hear of feng shui and get in touch with it.
Next, this person needs to spend the time and effort getting to truly understand this field, instead of believing the popular myths that are being perpetuated online.
To do the point above alone is not easy, because a lot of time is required to get educated on this field.
While all this is happening, this person also needs to make sure he or she doesn't get tempted to just engage any practitioner in hopes that this practitioner can solve all the problems in his or her life using feng shui.
All in all, what I'm trying to say is that a lot of these event involving practitioners like myself, after all experience I've accumulated from my BaZi and feng shui cases, are in a way fated. Most of my feng shui clients only come to me after they have made a purchase, only to realize that they ended up getting a really crappy house and expecting me to fix it. They basically lost the opportunity to apply feng shui the right way due to their own lack of understanding of this field. I've had so many unpleasant experiences with these sort of clients who think that feng shui is some magical short cut or it's bad feng shui is something that can be fixed with some items and furniture arrangement. Similarly, a lot of my BaZi clients also approach me only after some major setback, and come to me because they either need some guidance or closure. This is the reason why I don't bother trying to appeal to the mass market and throw myself in front of the media because I will end up attracting the wrong kind of clients. I firmly believe that those who are destined to find me will find me and I will do my best to help them with the knowledge I have – whether or not they can accept feng shui is not what they think it is, is beyond my control.
Coming back to the corporate feng shui audit: I did make it very clear to the CEO and COO that I cannot magically turn the company performance around and this was made very clear to them since last year. I wish I had that kind of power because I'd apply it to my own life and business. What I can do, however, is to point out where the issues and challenges may come from and give them time to either prepare for it, or stop it altogether. I had a really good chat with the CEO and brought forth some of my concerns and what I think might manifest this year and at which specific months of the year, and the really interesting thing that happened was that after I pointed it out to him, he could envision how it might unfold because he's the one person who knows everything that's going on in the company. To bring in a little of the technicalities, I had to take a look at the Period 8 Flying Star arrangements, the 2018 Annual Flying Star arrangements and finally drilled down into the Monthly Flying Star arrangements. This allows me to point out which department would be worst hit this year and at which month it would happen. When I went through my analysis with the CEO, he shared that some issues with a particular department are already developing and you could feel trouble simmering. Why that particular month stood out to him was because it was the month where an important contractual obligation ends, so it was very clear to him where the trouble may come from.
So this was what happened next after my chat with the CEO and COO: I was basically given the birth details of every senior staff in the company, and I sat in a meeting room and they would take turns to come in to get their charts read. This, along with the opportunity to chat with the CEO and COO, and conducting the feng shui audit for the company is such an incredible experience. The insights I gathered and the opportunity to see what I learned unfold in front of me is priceless and this is exactly the kind of in-depth client engagement I've always wanted to have. There is so much I wish I could share but I'm going to have to hold back because it wouldn't be appropriate.
I'm curious to see if some of the things brought forth during this year's review really do end up happening. I guess I'll have to count of them asking me to go back again next year. You can be sure I'll write about it when the day comes.
Time really does fly and this whole journey still feels very surreal to me.
Cheers,
Sean
Wish to get a consultation but have a question? Get in touch: