Zi Wei Dou Shu: The Most Advanced Form Of Chinese Astrology
Zi Wei Dou Shu
紫微斗数 | 帝王学与
三大神数之首
Zi Wei Dou Shu is known as "The Study for Kings".
It forecasts your life in a level of detail no other methods can.
Zi Wei Dou Shu's Precision & Prowess
Zi Wei Dou Shu goes into every detail
Zi Wei Dou Shi is a much more complex method of forecasting involving a huge array of stars. Each name you see represents a star from asterisms we can see in the sky. The main stars used are from the Big Dipper and Sagittarius constellation.
Zi Wei Dou Shu is the culmination of thousands of years of observations of the cosmos and the astronomical prowess of the ancient Chinese.
Like other methods, it serves to forecasts one's life, but it goes a step further and reveals the root cause, areas it will impact, and external factors influencing a paritcular aspect of life.
Zi Wei Dou Shu has 12 sectors, each representing an area of your life:
Life Sector (命宫)
Siblings Sector (兄弟宫)
Spouse Sector (夫妻宫)
Children's Sector (子女宫)
Wealth Sector (财帛宫)
Health Sector (疾厄宫)
Travel Sector (迁移宫)
Friends Sector (交友宫)
Career Sector (事业宫)
House & Assets Sector (田宅宫)
Karmic Sector (福德宫)
Parent's Sector (父母宫)
Each sector can represent a multitude of things and not just what its name suggests. By looking at where the stars land and the interactions between the sectors, a practitioner can accurately deduce what life has in store for you.
A Zi Wei Dou Shu reading is included in a consultation package and all three methods I know will be applied.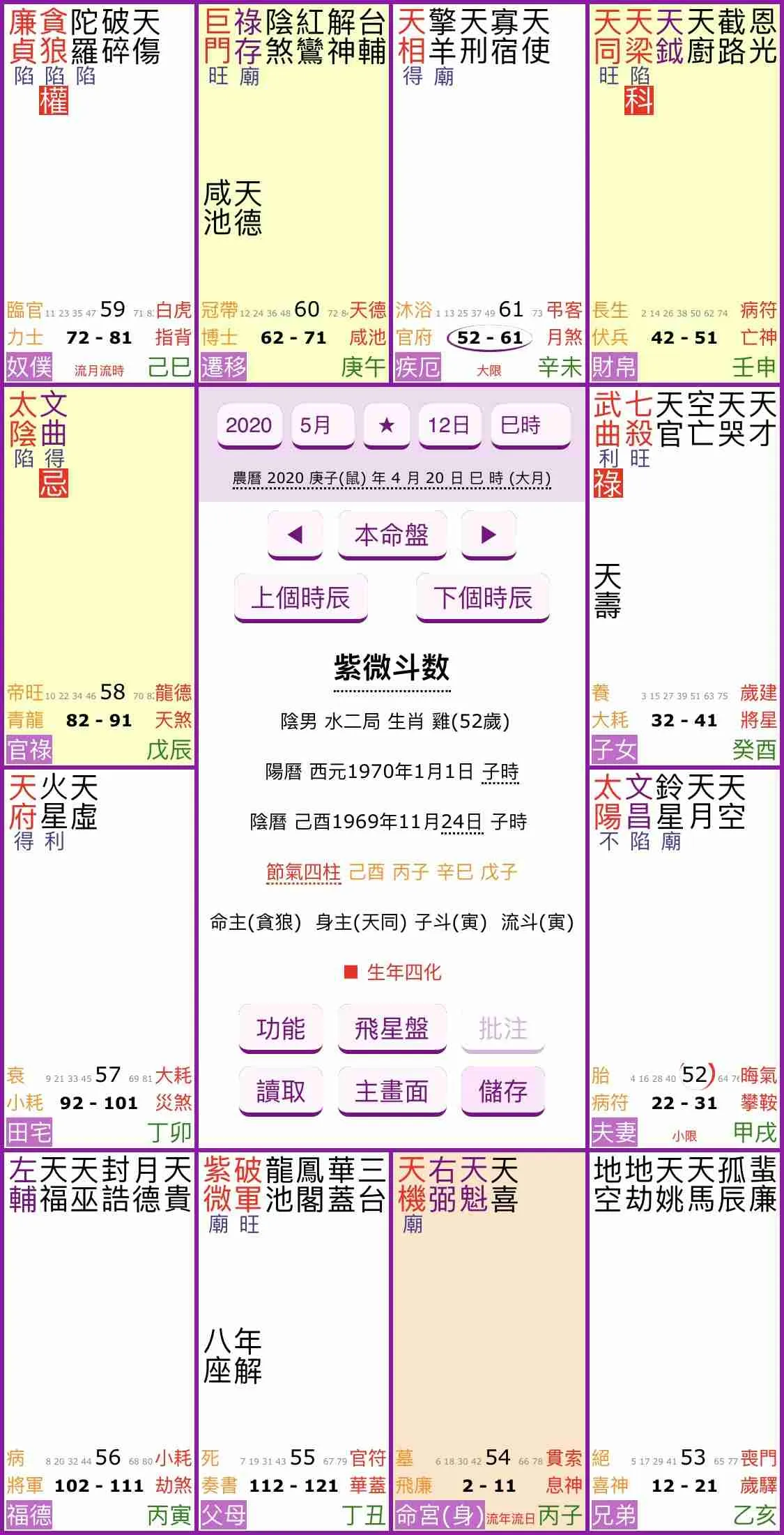 During The Consultation
Different methods will be combined
As Zi Wei Dou Shu is extremely complex, it will act as a supplement to your BaZi reading. I will still bring in some Zi Wei Dou Shu concepts and technicals to assure you how I arrived at a conclusion.
Yes, they are real people. Click on their profiles.
Testimonials

Or call them. I'll give you their number. 
Kah Khek Toh

I came across Sean's blog on Google while looking for a Bazi compatibility service. I decided to engage his service... read moreI came across Sean's blog on Google while looking for a Bazi compatibility service. I decided to engage his service after reading some articles that he wrote on his blog and was convinced by his ability to bring across his message as well as his knowledge in metaphysics.

While waiting for the scheduled day of consultation, I read up the rest of the articles he wrote on his blog and got to learn more about metaphysics especially in the topic of feng shui (more recently on Flying Star 9) and transcending one's Bazi chart. If you engage in other Feng shui consultant, I do not think they would have been an advocate of transcending your Bazi chart. This is not the case with Sean.

During the scheduled day of the consultation, he was able to detect something is amiss in the compatibility as I provided him with an incorrect time of birth (I am sharing this as it is a mistake on my part so please do not do this and give him the actual time of birth). Over the next few days through the Q&A, I learnt more from him about the issues he sees. From the process, I have also gained invaluable advice that I will bear in mind going forward.

I believe most of us are here for a consultation as a result of the challenges we faced/are facing in life and have our doubts. Having a consultation enables us to learn more about ourselves and for us to take actions to bring about a positive change. For those who are considering a consultation, I highly recommend you consider engaging Sean if you prefer straightforward analysis for the hard truths so you can take positive actions to bring that positive change to your life. read less

Jiemin Cheng

I approached Sean for a consultation after I read his blogposts, and it has certainty been an enriching experience. There... read moreI approached Sean for a consultation after I read his blogposts, and it has certainty been an enriching experience. There are 3 key reasons why I will engage Sean as my practitioner going forward:

1. His heart is in the right place. Sean has been incredibly patient and accommodating when I wasn't able to reply him immediately. Also, he is an morally upright practitioner that conducts his consultations with integrity. Some practitioners might distort the truth in a bid to scare you into buying charms as a "solution", when their objective is to line their own pockets instead. Although his prices are slightly on the higher side, you can have a peace of mind that it will be a truthful and beneficial experience. You will be able to feel that he genuinely wants to help his clients, and has their best interest at heart.

2. He knows what he's doing, hence he's able to give you an in-depth analysis. I believe his blogposts speaks volumes about his understanding and passion in metaphysics. You can expect thorough replies, with a mix of both technicalities and advice in a modern day context. He patiently explains concepts in laymen terms in a way that beginners can comprehend easily too. Additionally, there is a lot of value to be unlocked from the 7 day Q&A session. I personally believe that a consultation is also a time for self-reflection. I was able to digest the information before asking further questions, which aided me in getting a firm understanding.

3. He delivers key issues in a constructive manner that is meant to help you gain more self-awareness. The cards you're dealt plays a huge role, but how you play your hand is equally important as well. Sean will deliver the unbiased truth, but at the same time he emphasises what you can do with this information. During the consultation, I was made aware of certain issues to be careful of going forward. A consultation can be a vulnerable experience, but you're in good hands with Sean. 🙂 read less

Benjamin Teo

I engaged Sean Chan for fengshui reading for family. Was skeptical at first thinking that he is only in his... read moreI engaged Sean Chan for fengshui reading for family. Was skeptical at first thinking that he is only in his 30s, because I guess my impression of Fengshui Master always tend to be of one who old and probably equipped with "centuries" of wisdom. I was contemplating between him and a few other older fengshui master but decided to roll with him because of his media publicity and his blog and his belief that Fengshui is not about color and items and about changing oneself. And I did not regret my decision. He was punctual for the meeting. During the meeting, he explained in detail what to lookout for and answered all my questions patiently. He then offered to have a look at my daughter's bazi for free too to help us out. Also quickly looked at my helper's to see if any conflict with the family as well. And he offered post-consultation Q&A via other e-messaging platform, which I was able to continuously ask him questions and he responds promptly. Our relationship though professional, felt friendly. In a nutshell, I highly recommend Sean Chan and glad I picked him over others for my fengshui reading. read less

Lester Trinstan Kwok

I have seen and paid alot of money to different Bazi or Fortune Teller 'Masters', but none of them come... read moreI have seen and paid alot of money to different Bazi or Fortune Teller 'Masters', but none of them come close to what Master Sean is. I come from the service industry and positive sales approach or positive reinforcement is something that I practice alot. We often tell people things they want to listen first before telling them what is best for them. This system works well for sales but I cannot say the same thing for something that is about your life.

Unlike most 'Masters' that are computer based, or selectively tell you things you want to listen to, Master Sean has chosen a very different approach. He tells you the truth, and by knowing the truth, and accepting it, you can learn to deal with it. At the end of the day, Bazi is simply a system that gives you an accurate idea what you are dealing with. It is then your choice, your freewill to decide what you want to do with it.

The good thing about Master Sean is this, he tells you what you ought to know, in the hope that you use the information wisely and prepare yourself for the worst, or if you are fortunate to have a good chart, how you can enhance it.

Many 'Masters' I have seen, uses "modern sales tactics". If you are missing some elements, how you can use objects, colors, feng shui elements to enhance it. I was once told by a Master if you are lacking of Fire Element, you should be cooking more to improve your Fire Element. I literally starting laughing in my heart, how can I use cooking to improve my Fire Element if it is not even making money for me?

Master Sean believes in the art of Bazi, he uses the knowledge and transform it into wisdom to help others. It should never be an obsession as that becomes superstition and superstition creates a dependence, and that itself creates an attachment that causes major sufferings when things do not pan out.

For those who truly wants to learn about their shortcomings and able to accept true critics and wishes to make their life better, I will strongly recommend Master Sean. He will definitely not perform a miracle for you, but what he will do is to give you an untainted truth for you to practice freewill decision making. read less

Emmie Ong

I stumbled upon Sean's blog while I was researching articles on metaphysics and found his blog entries candid and refreshing.... read moreI stumbled upon Sean's blog while I was researching articles on metaphysics and found his blog entries candid and refreshing. He is funny, witty and I really enjoyed reading his blog entries which are relatable! Unlike traditional metaphysics masters, Sean is honest about what metaphysics can do and can't do and that struck a chord with me as I was exposed to metaphysics readings when I was younger as a result of my mother and those readings back then made no sense to me. As a naturally curious (and somewhat anxious) individual, I reached out to him for a bazi compatibility reading for my husband and I and was blown away by his explanation and accuracy about what has happened in our lives. It was like finally, something clicked and a light was turned on after being in the dark for a very long time. Sean's advice was invaluable as he provides a balanced opinion while considering other perspectives and it helped me understand and gear up for what may come. His advice has helped open the channel for closer communication between my husband and I and I appreciate that he emphasizes that we should not allow the readings to be a self-fulfilling prophecy and to transcend the charts by a paradigm and mindset shift. We are aware that it is easier said than done but we are encouraged by Sean's support and his willingness to answer any questions that we have even if it sounds silly. I do highly recommend you seek him out if you have any metaphysics questions or would like a bazi reading! 🙂 read less

Nicholas Chew

I came through Sean's blog entries while searching for references to study my own Bazi. While I'd like to be... read moreI came through Sean's blog entries while searching for references to study my own Bazi. While I'd like to be able to decipher mine and others Bazi accurately eventually, I'm far from competent. And, with my wife, we're at crossroads in life now deciding on our next steps in our career. Desperate for guidance, I quickly thought of Sean's service because I love the bluntness, at the same time, professionalism in his blog entries. At the very least I knew what a good/not so good BZ practitioner should know, and Sean's blog entries reflect those values and knowledge. At the same time, the way he writes clicks with me regarding his tone of voice.

I applied for his service and paid, within a day he replied (not the robot) to apologise for the long queue and provide me with expectations to his service - down to earth.

From his blog, I know what can be asked, and what shouldn't. I phrased all my questions while waiting for him to get back to me, and there're TONS of questions that he even commented on it, haha. I didn't want to waste both of our time, so I kept my questions on career, relationship, health, crisis, overall luck pillars and life outcome straight to the point and prepared follow up questions. He usually comes back with a response within 24 hours to 4-5 days, depending on his queue, but he'll keep me updated if I should expect a longer delay.

His responses were not only straight to the point but explained in detail where need be, which is essential for me who needs the clarification of why like this - like that. This is to lend credibility to the whole analyses and minimise confusion for me/my wife when life's confusing enough on its own.

He did emphasise that Bazi is only 1 part of life, understand it --> learn how can we change it if it's not desirable. So from the session alone, there were around 5-8 action points for me/my wife to complete in the next 5 years which includes both awareness and actions. Also, it provides an overall expectation that's the worse it can be for us, so with that in mind, there's nothing really to be afraid of and go experiment, challenge, grow, and transcend! read less
Quick Snippets Of Information
Frequently Asked Questions
Why do you combine different methods?
Combining methods gives you a better consultation. It gives you a more holistic understanding of whatever you're asking and helps you appreciate what our ancestors came up with. It also makes me more efficient and helps to make sure my analysis is on the right track as all methods should pain the same picture.
Why will the report be from a BaZi angle and not Zi Wei Dou Shu?
Zi Wei Dou Shu is a lot more complex and it will be much harder to break it down in layman terms such that you can understand it. As such, it will be a supplement, which means I'll still touch on some technicals so that you'll understand how I arrived at my conclusions. Just focus on your questions and leave the rest to me.
What does your consultation cover?
It depends on your questions. Just have a think about what you wish to ask and indicate that in the request form. You'll have the Q&A to clarify anything you need to.
What do your reports feel so technical?
I want the client to have some form of understanding of their own chart, and adding a bit of the technicals gives them the assurance that I am not saying things flippantly.
How does your Q&A segment work?
All consultations come with a Q&A segment that lasts 7 days which starts after you send your first set of questions over. Please send the questions over within 2 weeks of receiving your initial report.
Please be reminded that the Q&A is meant to be a form of goodwill and should not be seen as a service I must provide. This is not so that I  can do less work, but so that everyone is very clear that the Q&A is not to be abused or taken for granted. The rules exist so that everyone gets a fair amount of time and attention. It is not for people who wish to spam questions or ask things they aren't even concerned about.
The "7 days" are a guideline to how long the Q&A might last. I'm always flexible with this depending on how the consultation goes, but please note that I also reserve the right to end it at any point should I feel that the Q&A has gone off course or you are just squeezing whatever else you can from the questions.
If I do not reply within 24 hours, a day won't be deducted from your 7-day entitlement. I usually need 2 to 3 working days as I'll be busy clearing my queue and also taking time to process your questions in order to give thoughtful replies.
How should I ask my questions?
Please ask no more than 8 questions when you first fill-up the form. There is no standard template on how to ask them. Just take the process seriously and have some focus areas because your initial report will be based on these questions.
Your Q&A will also revolve around these questions that you put in the form, so please don't suddenly ask about your grandparents during the Q&A when you know it's not a pressing concern in your life right now.
You also have a part to play in how much you get from the consultation. The better your questions, the better I can leverage what I know and give you the insights you need.
If you've not done so yet...
Engagement Fees
Options For You
In-Person
For extraordinary cases

Not usually recommended

Don't waste your money
Single-Chart
Most In-Demand

Done Online

Better than in-person consultations
Two-Chart Bundle
Most Value

Popular with couples

For two in the family