Sorry to bother everyone with such a short email. This is just a quick announcement on a few changes to the site:
I've kickstarted a new side project of mine and set up a forum hosted on my server. You can visit it here: Sean Chan's Chinese Metaphysics Forum.

There is now a separate blog that focuses on technical case studies. You can find it here: Sean Chan's Technical Case Study Blog. You are welcomed to request for certain case studies, but please do so in the forums as there is a thread for it. Please note that new posts here won't be part of the newsletter you're currently subscribed to, so don't worry about spam.

I've also started a Telegram group if anyone's active in using Telegram: https://t.me/masterSeanChan

Lastly, as you can tell, there is a new look to the site. It should feel cleaner and load faster. I have a few more pages left to revamp but they are low-priority for now. I hope you guys find it a better browsing experience. If you like it, feel free to reply to this email and let me know you do. If you have any suggestions for improvements, I'd gladly welcome that too.
Why I Decided To Start A Forum
I've always wanted to actually. The idea of having a forum and building your own community did sound fun back then. The down period I'm having now gave me a lot of time to do other things, like finish my book, revamp my site and start a forum, so here it is.
I do visit other forums and check out what's going on there, and I have to say forums are some of the places where misinformation and poor analysis gets spread, so I really rather people come to my forum and hear directly from me instead.

I also figured it might be a better channel for people to post questions and get discussions started because forums offer you more anonymity compared to social media. It's also way better medium than starting discussions in the comments section.
You will see some Google ads there but please don't mind it – it's to help recover some of the extra costs to set up these new things.
Here are a few key things to take note if you're new to forums:
The forum is secure, so don't worry. It's SSL secure so everything is encrypted. You'll see a lock symbol beside the URL bar. There is no possible way to know your password.
My website is also hosted on Siteground an extremely reliable WebHost provider. If you're ever thinking of starting your own website, I'd highly recommend them. I tried a few and they are really the best.
My website is also protected by Cloudflare, which is another layer of security.
Lastly, please be mindful of the forums rules. They're essentially the same as any other forum.
If you don't understand any of the things above, it's fine. Just know that I know I'm in Singapore, and the last thing I want is a data leak and being punished by the law.
Here's what the board currently looks like. Nothing fancy which is the way forums should be: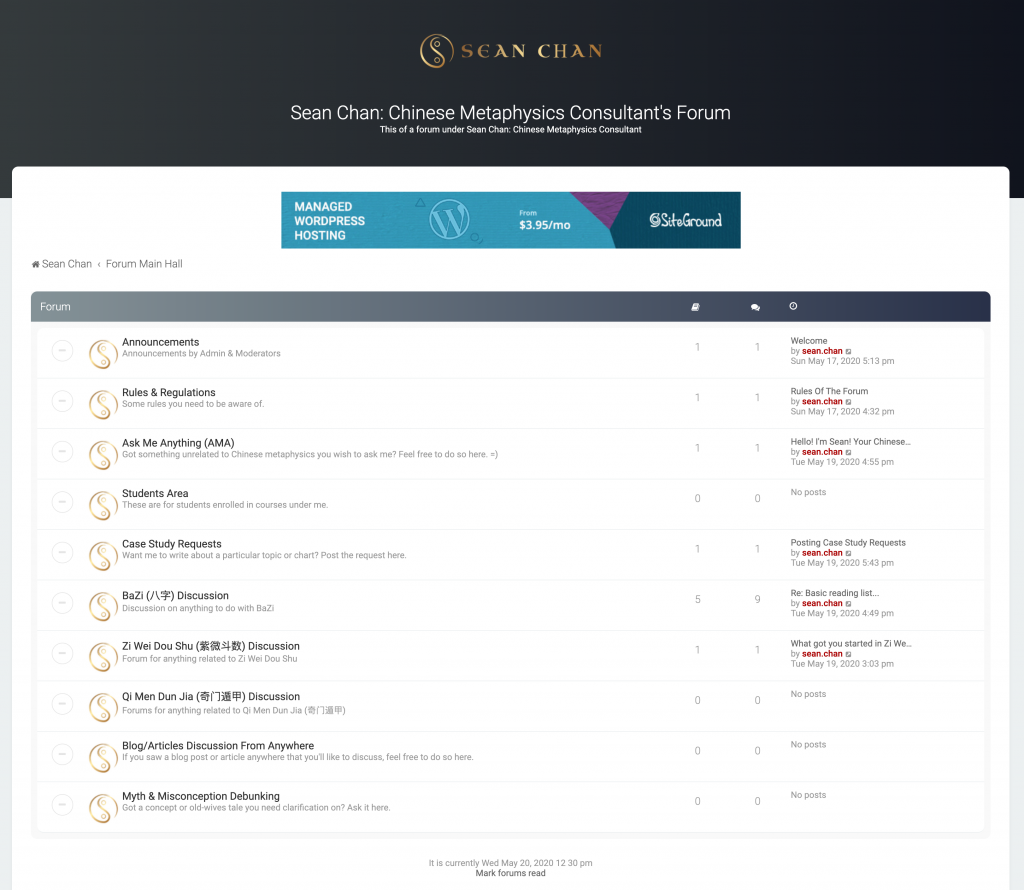 I might change up the design once in a while to see which has the best browsing experience, so don't be surprised to se a different look when you log-in.
As you know, I'm very active online, so see you guys there! I'm looking forward to seeing the cute forum nicknames!
– Sean